I KNOW AN OLD LADY WHO
SWALLOWED A FLY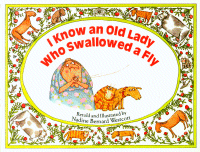 ...I don't know why
she swallowed a f,ly!
Children and adults will spend hours interacting with this charming hand puppet based on the favorite cumulative, rhyming song by Pete Seeger. All 8 animals the old lady swallowed fit easily into her mouth and can be stored in her stomach. This toy reinforces the most important components for learning to read: repetition, rhyming, and sequencing, as well as the concept of ordinals.
Original Size: 28"X11"
Mini Size: 18"X10"
Ages: 3 and up
Available in African-American,
Caucasian, or Hispanic motifs.
Price: Original: $57 Mini: $25
Check out some other items that can be used with this puppet here.

An outstanding manipulative
hand puppet to use in the
classroom and/or home environment!

This is an example of the
mini fly lady.
She has already swallowed the spider!